Children & Family Ministry
Glen Arbor places a very high emphasis on quality children and family ministry... our future is developing spiritually grounded kids! Since it is the parents God-given responsibility to rear their kids in the faith, Glen Arbor views our ministry as "coming along side" and assisting parents during their children's key development years.
Sunday School
Every Sunday, we offer age-approriate classes during the worship service for infants through Jr. Highers. We encourage high schoolers to serve in various aspects of church life during this time.
Awana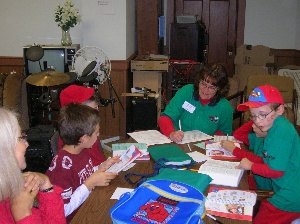 Glen Arbor hosts the Awana program every Wednesday night during the school year from 7:00-8:30PM. We are currently offering the following Awana clubs:
Cubbies: Preschoolers (3-4 yr olds)
Sparks: Kindergarten - 2nd grades (5-7 yr olds)
Truth & Training: 3rd - 6th grades (8-12 yr olds)
Trek: 7th - 8th grades (12-14 yr olds)
For each club, the evening consists of games, book time, and a large group time. Game time teaches teamwork and discipline in a fun organized approach. The book time is to help children memorize portions of scripture as well as learning how to understand the Bible. The large group time is a time to gather to sing and hear an age appropriate lesson. The night focuses on a fast pace of fun and learning. Kids love it!
For more info about Awana, please visit the Awana homepage.